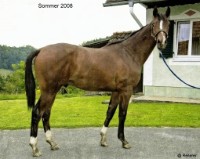 (ex: Magic Socks)

born 2007

Oldenburg-International

by Mighty Magic and Chouchou by Cash and Carry - Quo Vadis - Diplomat
Foal Premium
At 23.45 a.m. Chouchou gave birth her first foal. Maddox is very noble, beautiful and correct - really an eyecatcher!
Sold to an eventing rider in Austria as a foal andafter schooling in the stable of Ingrid Klimke with successes in the beginner level in Germany now sold to a jumping and dressage rider in Austria

---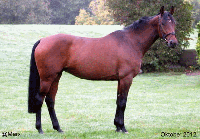 born 2007

Holstein

by Mighty Magic and Amrum I by Fasolt - Marmor - Rhadames
Amrum gave birth her 8th foal without any problems. Characterised by thoroughbred, long-legged and correct, with a very good movement and a lot of power of jumping she will show her potiential first in shows before more breeding.

2011: Casparo by Clarimo

Sold to Hesse

---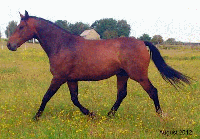 born 2007

Hanover

by Cyrano de Bergerac and Classika by Classiker - Dorian - Agronom
Hanoverian Program of Jumping Horses
At midnight and one week before date Classika gave birth her 2nd son. At the beginning he was very juvenile but with a lot of elastic movement
Sold to Altmark-GER
---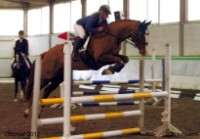 (FN: Quantums Zarrin)

born 2007

Holstein

by Quantum and Madonna III by Parco xx - Coriolan - Rebel Z I
Foal Premium
At 21.00 a.m. and one week before date she was really a surprise with his white legs and colour. She is a coloured dark-chesnut. Very good construction and muscled you can see the half-breed dam.
Sold to Saarland
Placings in: jumping competitions for young horses until 1,15m and against the clock until 1,20m, winner until 1,20m

2014: in foal to Cassilano