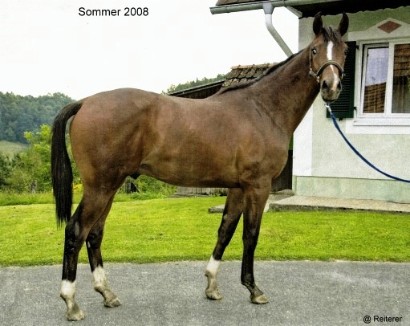 M A D D O X 2 7 (ex: Magic Socks)
born 13. May 2007
by Mighty Magic and Chouchou by Cash and Carry
Oldenburg-Springpferdezucht, Premium Foal, height 1,72m

Maddox, we gave him the name Magic Socks, is the first foal of our self-breed mare Chouchou. Maddox is very noble and beautiful. It is the first age-group of the stallion and we expected this foal with intensity. Maddox cannot deny the in-breeding in 3 times to Landgraf I! If he would been a filly, it would keeping here for breeding. Maddox awarded the foal premium of Oldenburg-International and he was sold as a foal to an eventing rider in Austria. The rider was very lucky about him and after schooling at the stable of Ingrid Klimke, Maddox was sold to a jumping and dressage rider in Austria because he was growing to tall and heavy for the eventing sport.

Ancestry: The sire Mighty Magic is a three-quater-thoroughbred by Mytens xx-Heraldik xx-Lavall I-Ladalco, who could convince at the stallion licensing 2005 in Holstein with beauty and self-convidence. With the rider Andreas Dibowski he could gain great successes as a junior sport-horse. The stallion was Vice-Champion of the Bundeschampionat for young eventing horses in Warendorf in 2008, in 2009 he was qualified for the Bundeschampionat of 6 years old eventing horses again, but he couldn't start regarding an accident of his rider. But at the end of 2009 he was showing his potential again and was Vice-World-Champion of the 6 years old eventing horses in Lion d'Angers in France. He was placed in CIC*** and in 2010 he was World-Champion of the 7 years old eventing horses in France and 2011 he was placed in the national German championship. In 2012 after placing in CIC** he is now in training for dressage.
The movement of the stallion is very well, especially the outstanding canter, additional the exterior is perfect. Mighty Magic could finish his 30-days performance-test with excellent scores and he also finished the 70-days performance-test with 118 points. He presents lots of technique over the jumps and potential.
Mighty Magic represents the old Holstein mareline 1947, f.e. also the famous stallion Cambridge. The great-granddam Fiona VII by Ladalco was also dam of the international jumping horse Conradin-Janne Friederike Meyer. Mytens xx was a very correct and beautiful stallion, who is the sire of a lot of outstanding jumping and eventing horses. Heraldik xx has a lot of offspring in the international sport, a.o. Herald with Markus Beerbaum in jumping competitions, FRH Butts Abraxxas with Ingrid Klimke in eventing, Goldmedal 2008 Olympia in Hongkong and 5th Individual, 2011 Team European Champion in Luhmühlen and 2012 Team Goldmedal Olympia in London and H-Ekwador with Katarzyna Milczarek-POL in the highest dressage level.
Own Performance: He was schooling at the stable of Ingrid Klimke and with her Australian rider he was successful in the beginner level in Germany. Now in the dressage and jumping sport in Austria with the new owner .
Pedigree:
Mareline of paardenfokken

line 1947


Spectacular Bid xx


Bold Bidder xx




Bold Ruler xx


High Bid xx


Spectacular xx




Promissed Land xx


Stop on Red xx


Photografic xx




Hoist the Flag xx




Tom Rolfe xx

Wavy Navy xx


Talking Picture xx




Speak John xx

Poster Girl xx


Neika


premium mare


Caramel xx




Wiesenklee xx


Cranora xx


Heraldika xx




Cale xx


Helga xx

Fiona VIII


Lavall I




Madame by Sacram. Song xx


Uljana

Ladalco by Ladykiller xx


Peidra

stud book S1


line 256


line 275

Cor de la Bryère




Quenotte B


G-Landgräfin

Warthburg

Balia

Landgraf I




Warthburg

Valia

Ahorn Z


Scarlett Royal


Que Belleza
stud book S1


Anglo Norman


Garitchou x




Nikou x


Maritchou x

Isba


Brilloso by Furioso xx

Angelique

Doxa

Diplomat

Duft I

Seeburg


Stud Book Mare


Lugano I by Der Löwe xx


Stud Book Mare by Schlingel
---
More Pictures:
| | | |
| --- | --- | --- |
| ►►Video | | June 2007, branding and awarding |