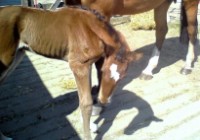 Filly

born 24. April 2010

died 27. April 2010
by Carolus II and Vanisha by Lord Z - Fasolt - Marmor
She was born early in the evening and very wide-awake. Brown and with a funny blaze. A little bit smaller and more noble than her brother from last year we very very convinced.
Unfortunately she died in the veterinary clinic after 3 days
---
born 2010
Holstein

by Ramiro's Son II and La Gomera by Tin Rocco - Lakai - Colt
She shows a lot of promise, this coloured brown young mare with a strong top-line and an outstandiuing canter.
She will stay for breeding
2014: in foal to Crunch