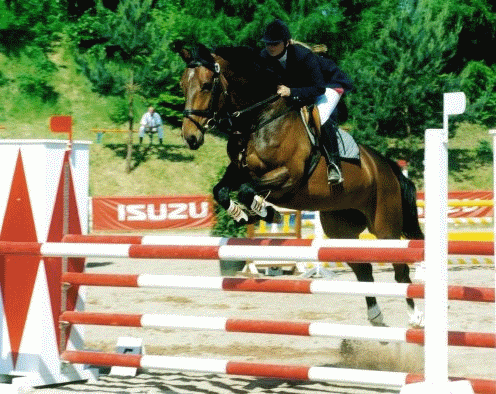 C L A S S I K A
born 23. April 1993, † 14. March 2008

by Classiker and Dorina by Dorian
Oldenburg, stud book S1, height 1,66m

Out of the successful Hanoverian mareline of Nilita, 1191428, Pape from Nyhusen. Her breeder Annegret Stef- fens-Wehage, Dornum, has bred a lot of successful sport-horses out of the dam and the granddam of Classika. She was registered in Oldenburg, Oldenburg-International and Hanover as a main stud book mare. Additional she was accepted for the Hanoverian program of jumping horses.
We had to put down Classika in March 2008. There was a bad ossification regarding an old sport injury, which couldn't treated again and a life free of pain wasn't longer possibel.
Ancestry: The sire Classiker by Calypso II died to early unfortunately. He has won the jumping part during his stallion performance test, his canter was optimal and he was very successful during the national championship of young jumping horses. After his first foals were promising, he was 2nd placed of the Main Premium of Stallions in Oldenburg. His offspring is very successful in dressage and jumping until the highest level. Calypso II was both in Hanover and Holstein a foundation sire. Although very massive his offspring showed a good rideability and you can find him in a lot of pedigrees of very successful horses. Even in Hanover he is often sire of the dams.
The black Dorian, sire of Classika's dam, was successful in international competitions until 1,55m. He inherited, like his sire Don Carlos, an outstanding jumping ability. With Agronom, a descendant of the original Trakehner Absatz, Wapiti by Wiesenbaum xx and Marconi by Marcio xx there is a lot of thoroughbred of the old Hanoverians in the far end of the mareline.
Own performance: At the age of 3 years Classika finished the stud performance test with highlights of jumping. Allready at the age of 6 years she was successful in international jumping competitions until 1,50m. At the age of 7 she was sold to your friend Tanja Lauer, a amateur rider, who has won competitions until 1,35m with Classika. Classika was very ambitious and she wanted always to the other side of the fences. Regarding a sport injury we could get her for breeding.

Pedigree:
line 18a2


line 6582


Cor de la Bryère


Rantzau xx




Foxlight xx


Rancune xx


Quenotte




Lurioso by Furioso xx


Vestale du Bois Margot


Tabelle


Heisssporn




Heintze

Franzi

Hyazinthe




Lorentin

Priamos

Monessa


Nevado xx


Heathersett xx




Hugh Lupus xx

Bride Elect xx


Neara xx




Nearco xx


Daphne's Delight xx


Gladiatorin

state premium


Waterman




Water Serpent xx


Ilda

Alwine


Uhrendorf

main stud book


Don Carlos

Dominik




Dömitz I


Abendglück

Fasanenmoor




Farina

Flottenmanöver

Dohlengilde

Domspatz


Dömitz I

Grafenhaus

Friesenelfe

Friesenkönig

Morea

Arkade


main stud book


Agronom


Argus


Abdullah

Goldprobe

Duellbuche


Duellant

Allerschlange

Waltrude


Wapiti




Wiesenbaum xx

Ahnenperle


Mona


Marconi by Marcio xx

Empfehlung by Eger

---
Her offspring:

| | |
| --- | --- |
| 2006: | Red Classic by Renegade Z, beautiful and correct dark-chesnut stallion, Premium Foal and selected for the Elite Foal Auction in Vechta in 2006. Sold to a stallion prospect rearer in Westphalia |
| 2007: | Cian Classic by Cyrano de Bergerac, an athletic brown stallion with 3 very good gaits. Cyrano de Bergerac was a successful in international jumping competitions with Franke Sloothaak. In 2006 there were the first Hanoverian foals. Cian is sold to Altmark-GER |