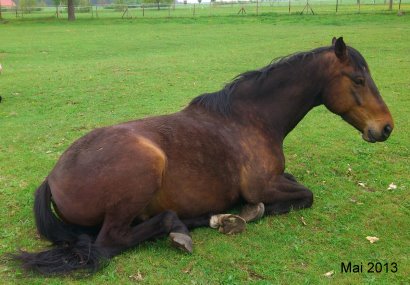 C I A N C L A S S I C
born 2. June 2007
by Cyrano de Bergerac and Classika by Classiker
Hannover, Hanoverian program of jumping horses

The 2nd foal of our Classika is a dark bay stallion. Cian Classic shows very good, elastic and elevated basic gaits. The interieur is willing and attentive. He is sold to Altmark, Germany, to a competent rider because he has had an accident when he was a foal and it isn't scheduled to compete at shows. But his owner is very sufficient with him as a riding horse.

Ancestry: The sire Cyrano de Bergerac contained a lot of blood of Holstein and behind the Hanoverian mareline of Ahnenflamme. Owner of this stallion were until July 2007 Franke Sloothaak and Olaf Rutschek. Then he was sold to Sweden and in January 2009 he was put down regarding an bacterial infection. Cyrano de Bergerac was very successful in international Grand Prixs until 1,60m with Franke Sloothaak. Unfortunately he had to finish the sport career regarding a complete rupture of tendon. He inherited chic and movement.
His sire Coriano was very successful in international competitions until 1,60m, last with Judy-Ann Melchior, BEL. Coriano's sire Corrado I is one of the great stallions of Holstein. He was also successful with Franke Sloothaak, a.o. in Grand Prix until 1,60m like Aachen and Frankfurt, World Cup and Nations Cups. In 1994 he had won the German Championship.
Cyrano de Bergerac's dam Romanze is mother of successful offspring in dressage and jumping. She is daughter of the Elite Stallion Ricardo, who had in Holstein and Baden-Württemberg 4 licensed stallions: Rico, Ringo Starr-Ludwig Zierer, Risandro-Samantha McIntosh/BUL and Ratsherr-Toni Hassmann. The last was successful until 1,60m.
In 3rd generation there is Labrador, with the pedigree Ladykiller xx-Aldato a three-quater brother of the great Landgraf I. Labrador was successful until 1,60m with Peter Weinberg and participant of the World Championships.
The sire of the great-granddam Tänzerin is the above mentioned Rico (State Stallion Stud Marbach), who is a great sire of jumping horses. The Trakehner Trautmann by Stern xx and Lateran are the background of the pedigree in 4th and 5th generation.
Pedigree:
There are the following in-breedings:
Cottage Son xx 5x
Lorbeer, Favorit and Ramzes x ever 4x
Havresac II xx, Dolman, Fanal, Apron xx and Feiner Kerl ever 3x
Dömitz I, Nearco xx, Goldfisch II, Ladykiller xx, Ramiro, Cor de la Bryère and Aventin xx ever 2x.
Wurttemberg


line 318d2


Corrado I
line 6879

Cor de la Bryere




Quenotte B


Soleil




Kuerette by Maestose xx

Option

Lord


Viola by Cottage Son xx


Golda

state premium




Ruth

Romanze


Ricardo


Ronald




Ramiro

Adrette

Ricarda




Lohgerber

Hedda

Lanze

Labrador




Ladykiller xx


Warthe

Tänzerin


Trautmann by Stern xx


Libelle

stud book S1


line 18a2

line 6582

Cor de la Bryère




Rantzau xx


Quenotte B


Tabelle




Heisssporn

Hyazinthe

Monessa

Nevado xx




Heathersett xx


Neara xx

Gladiatorin

state premium




Waterman by Water Serpent xx


Alwine by Cottage Son xx

Dorina


main stud book


Don Carlos


Dominik

Fasanenmoor

Dohlengilde


Domspatz

Friesenelfe

Arkade


Agronom




Argus


Duellbuche

Waltrude


Wapiti by Wiesenbaum xx

Mona by Marconi-Marcio xx

---
More Pictures:
| | | |
| --- | --- | --- |
| ►►video | | August 2007, at the age of 2 month |