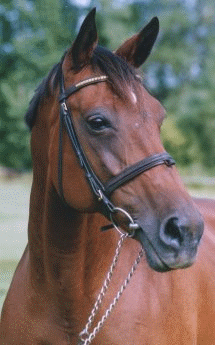 Q U E B E L L E Z A
born 18. May 1988, † 29. September 2009

by Quo Vadis and Doxa by Diplomat
Oldenburg, main stud book, height 1,64m

We bought Que Belleza for my mother as a riding horse at the end of 1994. Her rideability and charac- ter was very good and she jumped with an excellent potential and care. Therefore she was suitable for a senior rider.

Unfortunately Que Belleza couln't get in foal again regarding an endometritis in 2006. After receiving the retirement we have had to put down her end of September 2009 regarding acut recurring problems with her liver. She was nearly 22 years old and we were glad that she has had a good time.
Ancestry: Her sire Quo Vadis, a French stallion, with the Anglo Arabian sire, Garitchou x, has with Brilloso the precious blood of Furioso xx in the pedigree (more information about French Anglo Arabians here). The dam of Quo Vadis, Isba, is sister to the popular Olympic stallion J´T'Adore with Herve Gordignon-FRA. There are 4 licensed full-brothers of Quo Vadis in France. Garitchou x is also sire of dams in the pedigree of a lot of successful sport-horses. The Olympic Gold Medal Winner Jus de Pommes with Ulrich Kirchhoff and Andiamo Z, Zangersheide, with Jos Lansink, have both a dam of Garitchou x. The dam of Andiamo Z, Taj Mahal x was very successful in international jumping competitions with Morten Asen. Quo Vadis was only stallion of the Stallion Stud Vorwerk for a short time because he died due to an attack of colic. After all the few foals were good riding horses and 20 % of all placed offspring are successful until the highest level. His licensed son Classic was successful until the highest level in dressage. In 1990 his son Quizmaster was Premium Stallion of the Stallion Licensing in Vechta. In 1988 Quo Vadis was Main Premium Stallion in Oldenburg and successful in jumping compe- titions for young horses until 1,35m with an outstanding technique.
The sire of Que Belleza's dam Diplomat, a grandson of the great Duellant, was winner of the DLG-Show. This line has proved a recipe for successsful horses in international jumping and dressage competitions. Diplomat is also a.o. sire of the dam of Espri, who is sire of ET, the international jumping horse of Hugo Simon and Elvis, the international dressage horse of Nadine Capellmann.
Lugano I by Der Löwe xx was really a producer of hard perfomance horses. Today you can find him in the pedigrees of excellent horses, a.o. he is grandsire of the successful Darco.
Own Performance: With 5 years Que Belleza has won jumping competitions for young horses until 1,15m and was placed until 1,25m. She is schooled in dressage until the highest level.
Heredity: All offspring has very active pushing hindquaters, an outstanding walk and a lot of care and potential in jumping. Additional the character is perfect.
Pedigree:
The pedigree shows the following in-breedings
7x
Aldermann I
and
Denouste ox
2x
Goldammer II, Micipsa xx
and
Orange Peel xx
Anglo Normanne


Garitchou x


Anglo Arabian

Nikou x




Nikita III x




Micipisa xx


Nedjarine ox


Miquette x




Rey de Nousty x


Douchesse x


Maritchou x


Aiglon VIII x




Vermail III x

Titania x


Dame de Cour x




Omnibus x

Sirene x


Isba

Selle Francais

Brilloso




Furioso xx




Maureen xx


Princess Star


Red Star II xx


Aurore

Angelique


Pierreville




Chief xx


Mitsouka xx


Imperiale

Plein d'Espoirs by Orange Peel xx


Duchesse by Ivanoe xx

Doxa

Hanoverian

Main Stud Book


Hanoverian


Duft I




Duellant




Dolman

Forstweihe

Gotensage

Gote

Flügelmücke

Seeburg

Senator


Semper Idem


Allerweltskleid

Donautreue

Dömitz

Ferngönnerin

S 2647759

Hanoverian


Lugano I

Der Löwe xx


Wahnfried xx


Lehnsherrin xx

Altwunder


Albaner

Friesentreue

V 0573052


Schlingel

Shagya XVII ox


Fassa

Hanov. Mare


Asti


Hanov. Mare by Alfur
---
Her Offspring:

2000:

by Pirano I, in possession of a dressage rider in Holstein. He is a teachable horse with an outstanding active pushing hindquater. In the season 2006 he was placed in dressage com- petitions until M (medium level) with 6 years.


2001:

(ex: Quidditch 17)

by Quincy Z, outstanding jumping potential, a lot of care and good rideability. In 2007 suc- cessful in jumping competitions for young horses until 1,15m. Sold to Belgium above the Sum- mer Auction 2007 in Vechta. Now in France successful amateur jumping competitions until 1,30m


2003:
Chouchou

by Cash and Carry, great ability for jumping. Sold to Sweden for breeding and now back to the Austrian owner of Maddox


2007: Maddox by Mighty Magic

2012: Murphy by Mighty Magic

2013: in foal to Licotus

2005:

Que Dana

by

Da Lisco, pretty and characterised by her grandsire Darco, Foal Premium, the mare is in possession of an Bavarian rider

2006:

Scardanelli

by

Samarant, a eyecatcher in movement and look. Foal Premium, sold to Westphalia

---
More Pictures: