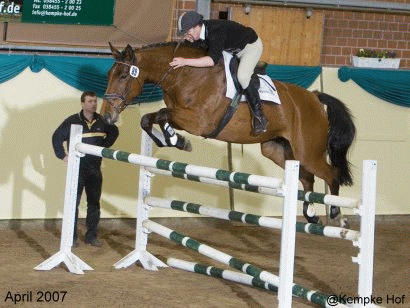 Q U I C K D I T C H (ex: Quidditch 17)
born 18. April 2001
by Quincy Z and Que Belleza by Quo Vadis
Oldenburg, stud book S1, height 1,73m

Quidditch is the 2nd foal of Que Belleza. She's characterised by her French ancestors and her movement is very good. She should be the junior jumping horse of Alexander Faust but unfortunately he was given up riding. We startet schooling with Quidditch late because the French blood is backward. In 2007 she was sold to Belgium above the Summer Auction in Vechta. Since 2008 she is successful in amateur jumping competitons in France. She has a good rideability, a lot of temperament and an outstanding jumping quality. She is a horse for the highest level of jumping competitions.
Ancestry: The sire is Quincy Z by Quick Star and Liana by Goodwill - Grannus. Quick Star was winner of international jumping competitions until 1,60m with Meredith Michaels-Beerbaum and now he is very popular and successful as stallion. Goodwill is a Holstein stallion by Landgraf I - Moltke - Farn and was covering in the Netherlands. He is also a great stallion. There is much offspring in the international sport, f.e. Mac Kinley with Rolf-Göran Bengtsson and now with Mario Stevens. To tell something about Grannus is not necessary, there are a lot of outstanding jumping horses in the international circle. Quincy Z is stallion in Zangersheide Stud in Belgium and was successful until 1,60m with Jos Lansink and Judy-Ann Melchior.

Own Performance: In 2007 there were the first placings in jumping competitions for young horses until 1,15m. Since 2008 she is very successful in amateur jumping competitions until 1,30m in France.

Pedigree:

Mareline of paardenfokken
KWPN


Quick Star

Selle Francais


Galoubet A




Alme Z




Ibrahim


Girondine by Ultimate xx


Viti

trotter




Nystag

Ida de Bourgoin

Stella

Nithard x


Kesbeth x

Nitouche x


Flora




Vanille by Nougat x


Liana M


Goodwill


line 1463


Landgraf I




Warthburg


Jessica II




Zara

Diana

Hanover


Grannus




Graphit

Odessa

Lagune


Leutnant

Stutbuchstute

stud book S1


Anglo Norman


Garitchou x




French Anglo-Arabian

Nikou x




Nikita III x


Miquete x

Maritchou x




Aiglon VIII x


Dame de Cour x

Isba

Brilloso


Furioso xx


Princess Star by Red Star II xx


Angelique

Pierreville

Imperiale

Doxa


main stud book


Hanover


Duft I


Duellant

Gotensage

Seeburg


Senator

Donautreue

Stud Book Mare


Lugano I




Der Löwe xx

Altwunder


Stud Book Mare


Schlingel by Shagya ox

Stute by Asti
---
More Pictures:
---
Videos: